Genius (A Rock Opera) by Daniele Liverani - Episode 1 A Human Into Dreams' World (2002)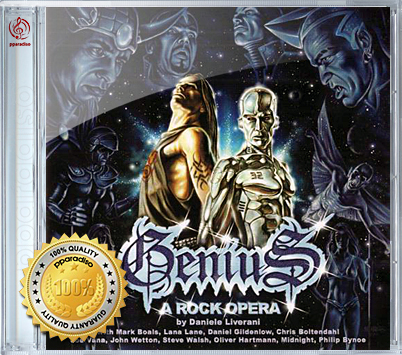 Ova rock opera je trilogija koja ce obuhvatiti ukupno 33 pesama (11 za svaku epizodu).
Cak i ako je ukupno trajanje Opere oko 4 sata muzike za 3 CD, celo koncept se odnosi na glavnog junaka koji traje samo 10 minuta!
Kao sto je poznato da snovi cesto stvaraju "tajm-istezanje" efekat u nasim umovima, tako da 10 minuta sna moze biti upamceno kao ceo dan jedne price...tako da je tih 10 minuta sna , opisano u 4 sata muzike! Ali prica ne govori o snu kao redovnoj pojavii koji obicno sanjate...u ovih 10 minuta "Genije" ide isuvise daleko i otkriva po prvi put sve tajne snova ...
Sedam sati ujutro, tipicnog ponedeljka (tacno 20 decembra 1999), budilnik pored kreveta pocne da zvoni kao i obicno.
Dok je on polako budi, slusajuci zvuk njegovog starog sata, uvidja da je njegovo zvono malo cudno i stalno ponavlja sekvencu otkucaja.
On je inace rock bubnjar i odjednom pocinje da zamislja tu cudnu sekvencu kao da je svira u vidu odmerenih udaraca na dobosu.
Dok njegova imaginacija prati te slike, on se oseca veoma cudno i zaspi opet. Ali ima osecaj kao da je to sve izaslo iz njegovog jastuka.
Posle nekoliko sekundi pocinje da sanja. Nalazi se ispred velike zlatne kapije, negde u vazduhu, gde dva zenska vratara cekaju upravo na njega.
U pocetku on ne razume sta se desava i u polusnu misli da je to samo rezultat njegovog sna ali na trenutke mu se cini da je taj dozivljaj nesto mnogo vaznije ... i p olako shvata da je taj cudan san je povezan sa njegovim umom u alternativnoj realnosti ...
Hoce li zapamtiti svoj san i otkriti covecanstvu sve tajne koje je video i naucio kada se probudi? Sznacete ako preslusate sva tri dela ove trilogije...
Musicians:
Daniele Liverani - All Guitars, Bass and Keyboards
Dario Ciccioni - Drums & Percussions
Cast of characters:
Mark Boals - Genius
Lana Lane - Doorkeeper
Daniel Gildenlow - Twinspirit n.32
Chris Boltendahl - Stationmaster
Joe Vana - King Mc Chaos Consultant
John Wetton - King Mc Chaos
Steve Walsh - King Wild Tribe
Oliver Hartmann - King Wild Tribe Consultant
Midnight - Maindream
Philip Bynoe - Storyteller
Olaf Senkbeil, Hachy Hackmann, Chris Boltendahl - Choirs
Additional backing vocals on The Right Place - Rita Celli
Additional backing vocals on All Of Your Acts - Thom Griffin
Genre................: Symphonic power metal, Rock opera
Source...............: CD
Year.................: 2002
Ripper...............: Easy CD-DA Extractor 10 & LITE-ON IHAS122-18
Codec................: LAME 3.96
Version..............: MPEG 1 Layer III
Quality..............: Insane, (avg. bitrate: 320kbps)
Channels.............: Stereo / 44100 hz
Tags.................: ID3 v1.1, ID3 v2.3, APE v2.000
Ripped by............: pparadiso on 16.1.2013
Included.............: NFO
Covers...............: All
01. Without Me Today
02. The Right Place
03. Paradox
04. The Glory Of Our Land
05. All Of Your Acts
06. Dreams
07. My Pride
08. There's A Human
09. Father
10. Terminate
11. I'm Afraid
Playing Time.........: 01:19:00
Total Size...........: 180.88 MB
• Use JDownloader for easier downloads •



Ovde je skriveni sadržaj !!!
Ovaj sadržaj mogu videti samo registrovani članovi nakon zahvaljivanja na dugme HVALA